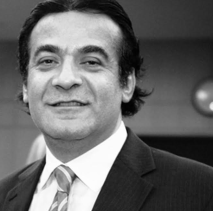 Ziad K Abdelnour, is a Lebanese American physical commodities trader, financier, and author. He is the President and Chief Executive officer of Blackhawk Partners, Inc., – a "private family office" that supports highly accomplished operating executives in expanding their companies organically through business acquisitions and physical commodities trades (mostly oil derivatives) around the world. Ziad K Abdelnour is also the Founder & Chairman of the Financial Policy Council, a public policy-oriented not-for-profit organization with a mission to educate and advise the public about fiscal and economic matters. Additionally, Ziad is a member of the Board of Governors of the Middle East Forum as well as the Former President of the Arab Bankers Association of North America.
Beginning in 1985, Ziad K Abdelnour has been a part of more than 125 transactions totaling over $10 billion in the high yield bond, investment banking and distressed debt markets. Mr. Abdelnour is broadly acknowledged for taking an integral role in the global capital markets.
Education
Ziad attended the University of Pennsylvania's Wharton School of Business where he obtained his Master of Business Administration in Finance. He also received a Bachelor of Science in Economics from the American University of Beirut, where he graduated Summa Cum Laude.
Ziad K Abdelnour - Founder and President of US Committee for a Free Lebanon
Outside of Blackhawk Partners, Ziad K Abdelnour is the Founder and President of the United States Committee for a Free Lebanon (USCFL) ; a lobbying group founded on July 4, 1997 by Ziad including 56 notable Lebanese American activists. The objective of the organization is to "Educate the American public as to Lebanon's strategic and moral significance as an ally of the United States and an outpost of Western values in the Middle East." More details about the organization's activities since inception can be found here.
The USCFL believes that the United States has crucial interests in the Middle East and sees the region, with its profusion of radical ideologies, dictatorships, border disagreements, existential conflicts, and political violence as a considerable source of complications for the Free World. Toward this end, the USCFL looks to help configure the intellectual climate in which U.S. foreign policy is contrived by focusing on key affairs regarding the region in an approachable way and for a sophisticated public.
The USCFL also operates as a resource for institutions and individuals searching for not only correct and trustworthy information, but also novel and original viewpoints, linked with creative and productive solutions, for Lebanon and the Lebanese people.
Therefore, the USCFL serves as an instrument to disseminate "intelligence" and "out-of-the box" concepts to institutions and policymakers in the United States and abroad that are capable of exerting political, economic, military or spiritual leverage to bring abuses towards Lebanon to a closure and hold those responsible to account.